Our online derivative structures platform
Cortex Plus provides live pricing and click-and-trade execution for a range of derivative products across interest rates. The intuitive platform employs a simple booking interface that connects you to an array of products including interest rates swap, options and structures.
Whether you want to develop innovative trading strategies, price and execute a variety of derivative products or monitor and manage your trading activity, Cortex Plus has been designed to offer you a fully integrated solution that is simple to use and offers complete transparency.
Cortex Plus is our online derivative structures platform, providing live pricing and simple click and trade execution
Explore the unique features of Cortex Plus
Flexible booking interface
An intuitive product menu enables you to find the products you need quickly and easily. Combined with dedicated deal capture screens for all support products, you have complete control in how you price and execute trades using the platform.
Performance-driven pricing
All pricing works on an RFQ basis – simple click-and-trade from price generation through to execution.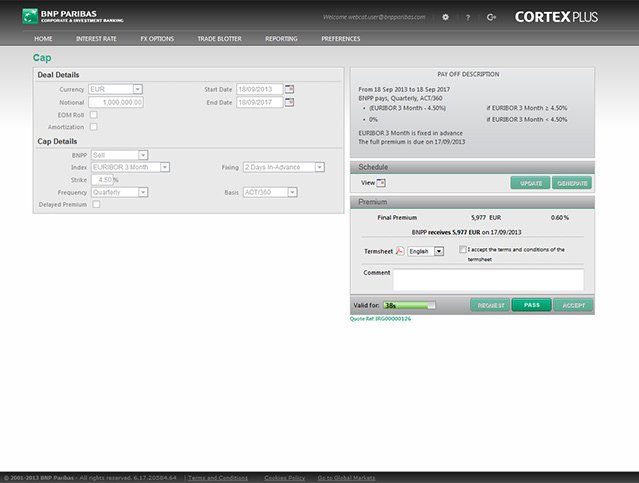 Interest rate structures supported
Click and execute a variety of Interest Rates products including Cap, Collar, Floor, Swap and more.
Historical reporting & termsheet generation
Broad reporting features offer on-demand reporting for all historical RFQs and trade executed. Additionally, termsheets are generated before any trade confirmation to ensure full execution transparency.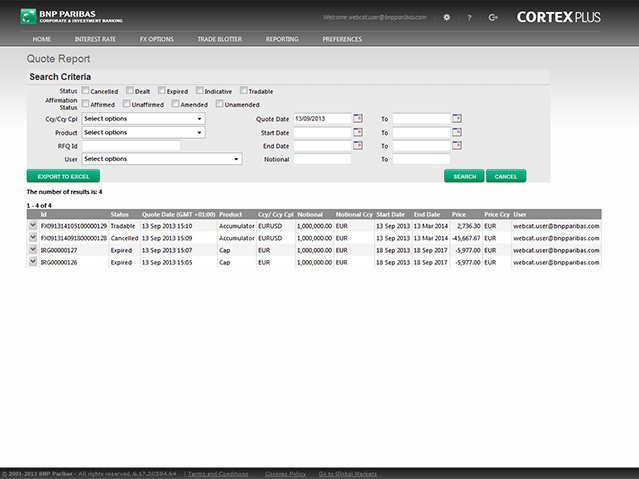 Market intelligence
Cortex Plus is fully integrated into Global Markets, BNP Paribas' comprehensive capital markets research, analytics and market intelligence portal.
Be the first to know
Every month, be the first to know about our latest publications