BNP Paribas Repo BOT
A new intuitive digital tool to support with your repo trade needs. Request credit repo RFQs and execute trades in three simple steps using the fully automated chatbot. Watch the video to find out more!
How it works?
Access the Repo BOT through BNP Paribas Connect or on your Symphony Core Platform
You will receive the T&Cs in a private chat to accept before being able to use the Repo BOT. Clients must be already on-boarded and have signed the T&C's / disclaimers before starting a BOT workflow.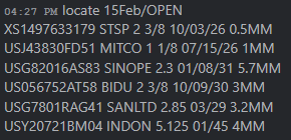 Request Prices
Request repo RFQs (request for quotes) and execute repo trades on Govies and Credit Bonds. You will be added to a chatroom involving the BOT as well as your BNP Paribas Sales who can assist you at any point during the trade.
Write or paste the RFQs starting with LOCATE, BID or OFFER with the main features: size, bond ISIN, start and maturity dates. The BOT can understand a wide range of natural language text to make Repo RFQs. You can ask up to 50 quotes in one go.
Validate Request
The BOT will structure your request and present it back to you in a standardised format. Once you have checked that all parameters are correct, confirm and send the price request to BNP Paribas Trading.

Receive Price and Book the Trade with a Click
If you like the price you can then request trade or alternatively pass.
Once you click on 'Request Trade' the Repo BOT will send the request for final acceptance/validation by your BNP Paribas sales team and proceed to booking.
The BOT will then provide you a colour coded status of your request:

Passed: you did not request to trade at the proposed price.

Pending acceptance: your request to trade at the proposed price is pending final validation by BNP Paribas sales.
Accepted: your request to trade has been accepted and the trade has been booked by BNP Paribas sales.
Once the trade is fully booked and appears as 'Accepted' in the BOT chat room, the usual post trade workflow is processed including allocations, confirmations and VCONs.


Find out more about our digital solutions
Be the first to know
Every month, be the first to know about our latest publications