DOWNLOAD NOW AND START YOUR JOURNEY
BNP Paribas Global Markets App
The app for a changing world.
Broaden your perspectives by tapping into BNP Paribas' views, analysis and daily insights from the Markets 360TM Strategy and Economics team and Sales & Trading desks – anytime, anywhere – and in a fully customised way!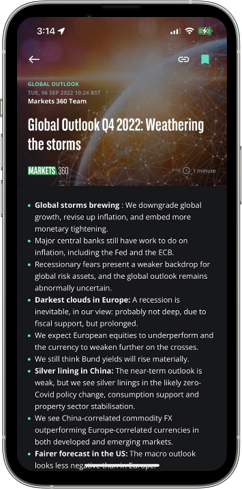 Flagship publications all in one place
Browse our economics and strategy content more easily than ever with the Global Markets app. Read the flagship Global Outlook each quarter, or take a look at the Corporate FX and Markets Monthly for an overview while on-the-go. Don't want to read? Then listen to an in-depth discussion of key themes in replays of the ever-popular Markets 360TM and Credit 360TM calls.
Find out more about Markets 360TM here.
Curated live feed available at your fingertips
Tired of scrolling through endless content? Need information on relevant topics? Filter out the noise with Global Markets app and receive a personalised curated live feed with content that matters to you. You can even follow your favourite authors and stay up to date with their latest publications.
Select your topics of interests when you first log in and update them anytime in the 'More' tab.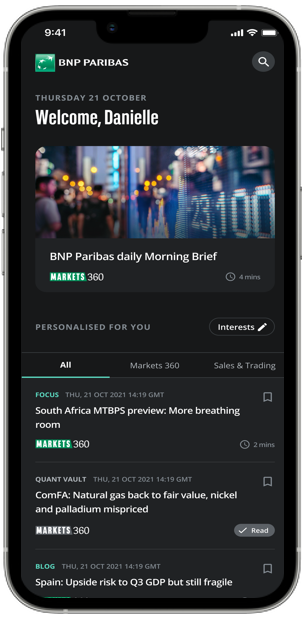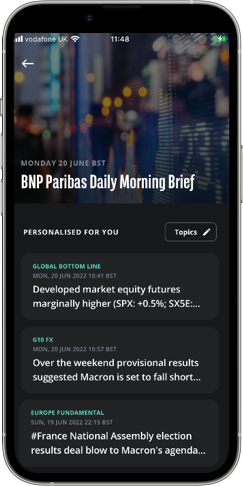 Read your personalised daily brief over your morning coffee
Markets may never sleep, but we know you do. Wake up to your daily morning brief: My Morning Comment – available on the BNP Paribas Global Markets app – and get a summary of the latest market events and insights into the day ahead. Grab a brew, read your morning brief and start your day on the right foot!
Find out more about My Morning Comment here.
Listen to our podcasts wherever you are
Whether you're getting the kids ready for school, going for your morning run or taking the bus to work, stay up-to-date on topics that matter to you with our easy-to-digest podcasts from Markets 360TM. Wherever you are, whatever you're doing, don't miss out!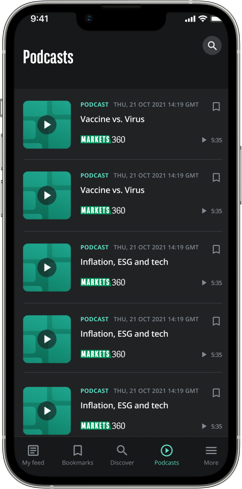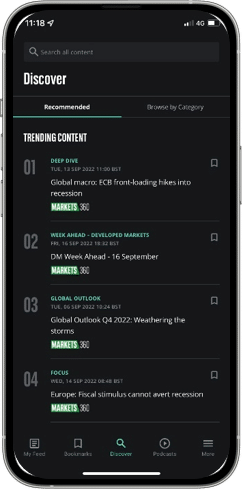 The Discover tab: unlocking the world of BNP Paribas content
We know you'd rather be out discovering the world, not sifting through endless articles and content online. That's why we've created an intuitive and powerful search function so you can pinpoint the content you need and free up all those hours spent looking for the right information. Simply search for it, read it and go!
Bookmark content to read later, even when you are offline
Don't have time to read now? Bookmark your favourite content and save it for later, even when you are offline.
The bookmark feature is fully synchronised with the Markets 360TM web portal, meaning you can read bookmarked content later at your desk.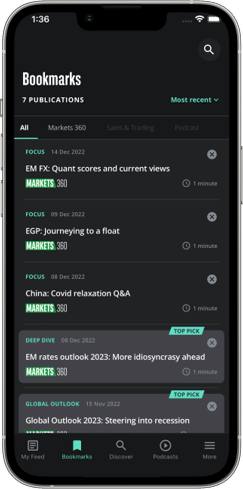 Find answers to common questions in our FAQs. You can also watch the tutorial video below.
BNP Paribas Global Markets App Tutorial Video
Watch the tutorial video for a step-by-step guide on how to log in, customise your feed and use the Global Markets app.
Be the first to know
Every month, be the first to know about our latest publications