The Global Custodian surveys provide an annual barometer of client service across the prime brokerage and fund administration segments. The two results are particularly encouraging as they reflect a strategic commitment by BNP Paribas to offer clients a holistic solution spanning prime brokerage, clearing, execution, administration and custody.


Prime brokerage
For Prime Brokerage, clients voted for BNP Paribas as best in class for Client Service for the eighth consecutive year. In this category, the bank impressively outscored last year's results and the overall global average. BNP Paribas was also voted first in seven categories including:
client service;
operations;
capital introduction;
OTC clearing;
FX prime brokerage;
and consulting.
The survey canvassed over 545 responses from hedge funds and private equity firms that each provided ratings for prime brokers across 13 separate functional service areas. Those results are then tallied and weighted based on client size and business complexity. BNP Paribas received one of the highest turnouts from survey respondents, and the bank outperformed the global score in every category.
BNP Paribas' Global Prime Services business has achieved an impressive performance in client satisfaction. In the official survey write-up, clients spoke to the strength of BNP Paribas' business and the quality of service. In the official survey write-up, clients spoke to the strength of BNP Paribas' business and the quality of service.
What our clients said:
"Excellent service and continual communication… especially during the extreme volatility in March 2020."

"I cannot say enough good things about the team that I have worked with at BNP over the past several years."

"BNP provides the most transparency in trade settlement and other portfolio related items, such as corporate actions and margin/ securities lending fees. All ad-hoc requests are addressed timely and thoroughly by our client rep."


Kieron Smith, Deputy Global Head of Prime Solutions and Financing at BNP Paribas said:
"Thank you to all the clients who continue to vote BNP Paribas as the preferred prime brokerage provider. Despite the teams having to work remotely, we remain resolute in providing top quality services to our clients.
The positive client feedback showcases our strong commitment to the prime brokerage business, including the global integration plan with Deutsche Bank's Global Prime Finance and Electronic Equities business."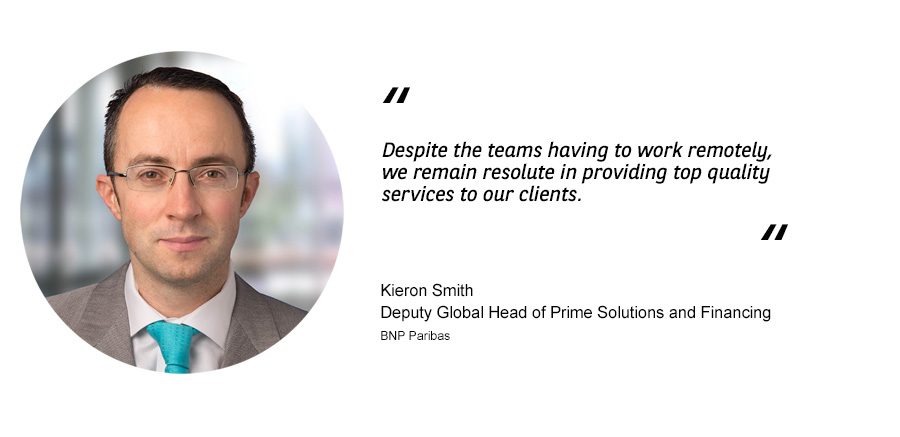 For Hedge Fund Administration, we were delighted to achieve strong improvements in categories such as:
client service;
onboarding
KYC;
AML;
and sanctions screening.


The bank also outperformed the global average in client service, investor services, and reporting to auditors.
Feedback from clients also highlighted high levels of service across investor services and middle office functions, in particular.
Diarmuid Ryan, Global Head of Hedge Fund Services at BNP Paribas Securities Services, said:
"As always, these results have provided us with key insight into where we are performing well and where we can further enhance the client experience. We would like to thank our clients who took the time to give their feedback. 
We are investing heavily in the growth of our hedge fund administration franchise with ambitions to be a leading global player in this space. When you combine this with a thriving prime brokerage business, it makes for a strong proposition across multiple business lines."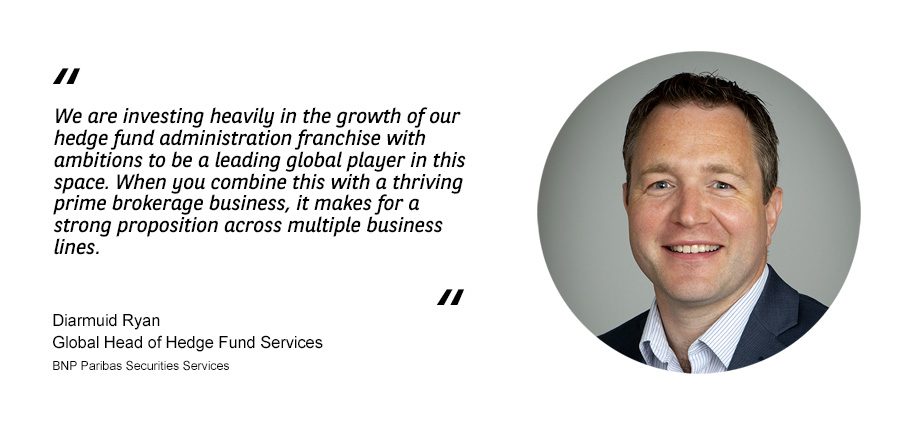 What our clients said
:
"The middle office team really excels here, we are very happy with the services. We have had no issues with the MO in the time we have had them which allows us to focus on running the portfolio."

"The Investor Services team are very helpful. The staff are willing to stay late in order to complete the investor request"

"The reports required to be provided to the auditors have been provided in a timely manner. The audit request or queries have also been answered promptly and patiently to the auditors."