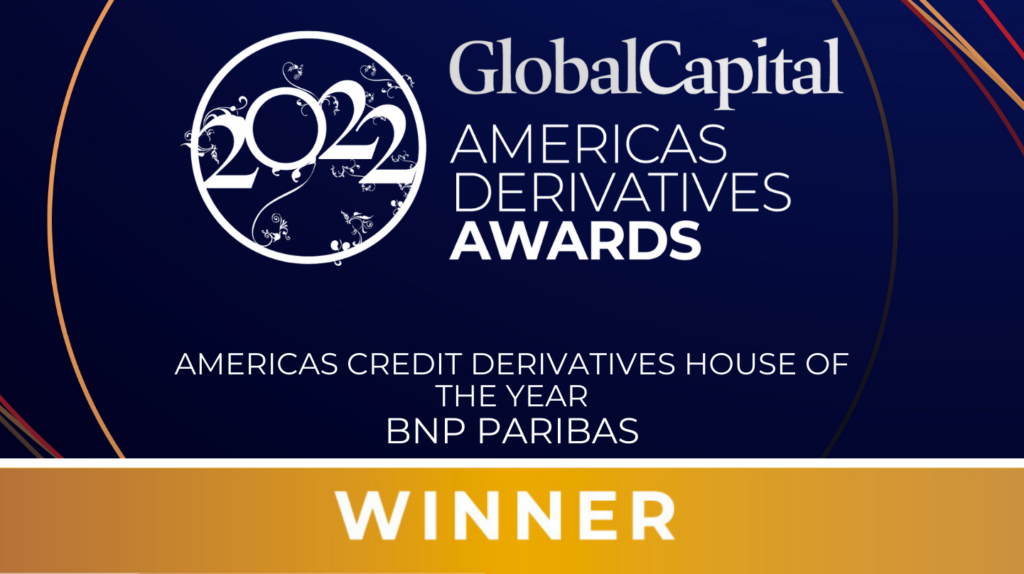 Global Capital named BNP Paribas "Americas Credit Derivatives House of the Year" at its Americas Derivatives Awards gala on September 8th. Considering Global Capital's over three-decades of leadership in providing reliable media coverage of every aspect of the international capital markets, this award represents a significant achievement for the bank.
BNP Paribas has distinguished itself by navigating a challenging year in global markets, fortifying its global offering through leveraging the bank's strong balance sheet and providing a truly differentiated service, evidenced by the bank's increase in market share across all the regions in which it operates. In the US, BNP Paribas Americas Credit Markets has managed to solidify its brand and reputation as a top full-scale derivatives provider, all while continuing to demonstrate its unwavering commitments to ESG standards and to the Net Zero Alliance.
"We appreciate Global Capital recognizing BNP Paribas' 20+ year commitment to Credit Derivatives and acknowledging our market-leading product offering", commented Nirav Thakker, Head of Flow Credit Sales and Trading, Americas, BNP Paribas. "Our clients reliably expect us to provide liquidity and solutions across products, but most importantly to be there through market cycles.  This award is a testament to the scope of our offering and the consistency of the service we provide."
The Americas Credit Derivatives House award in particular is unique, in that it seeks not to merely recognize the largest firm in the space, but rather to celebrate and encourage innovation in and advocacy for the derivatives industry and its clients.
BNP Paribas' unique positioning as one of the very few dealers present in the full structured credit scope has enabled the bank to embrace new frontiers in structured credit solutions, expanding its product offering and pioneering new technologies. Combined with a differentiated credit research offering and emphasis on developing innovative and digital solutions and platforms, BNP Paribas continues to place clients at the heart of its strategy. These factors, coupled with innovative approaches to ESG, have all contributed to the bank's very well-deserved win, both with Global Capital and with clients worldwide.