By supporting its central bank clients through the Covid-19 pandemic crisis, BNP Paribas has supported the real economy through a period of volatility and uncertainty.
In 2020, BNP Paribas was joint lead manager for a total of $17.6 billion in sustainable bonds ("pandemic bonds") from various issuers, including sovereign issuers, in response to the Covid-19 crisis. Beyond its standing in primary markets, solid positions in secondary markets and as market maker, BNP Paribas Global Markets played a critical role in facilitating these issues.
When awarding the Global Markets accolade, Central Banking said: "The past year has been intensely challenging for global markets, but BNP Paribas demonstrated it remained a trusted partner to central banks. The judges noted that the BNP Paribas team has been building relationships with central bank clients for 15 years and it stood by the community throughout the Covid-19 market turbulence. From gold to fixed income, and from securities lending to green finance, the bank has demonstrated its credentials as a market leader worldwide."
Laurent Leveque, Global Head of Official Institutions Coverage at BNP Paribas, said: "We are immensely proud to have won Central Banking's prestigious Global Markets Award for the first time. This is the result of our collective efforts, building strong working partnerships with central bank clients over the past 15 years. Thanks to the hard work of our dedicated teams we have been able to stay close to our clients and their evolving needs, supporting them even during the most difficult of times. We are delighted by this accolade which recognises our market-leading credentials."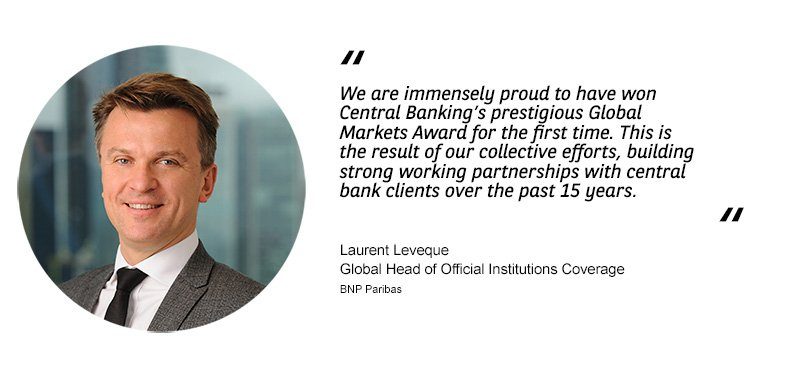 Talbot Stark, Global Head of Institutional Sales, Global Markets, added: "This year in particular it is a true honour to receive this award. As the economic impact of the health crisis has thrown down enormous challenges for Central Banks, I am extremely proud of the teams at BNP Paribas Global Markets, who showed incredible resilience and commitment. As we set out on the road to recovery, I look forward to working even closer with these clients, and strengthening our relationships further in the days ahead."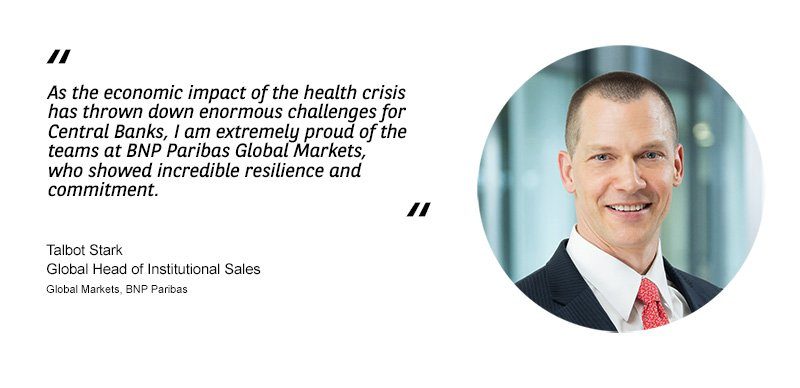 Earlier this week, Central Banking also announced that BNP Paribas Asset Management has won Asset Manager of the Year, noting: "The track record BNP Paribas Asset Management has built over the years has allowed it to weather the fallout from the Covid-19 pandemic. Despite the challenging environment, they were able to onboard new central bank mandates and work closely with central banks that were making significant asset allocation changes while working remotely."
BNP Paribas Asset Management has been serving Central Banks for decades. Over the past few years it has increased its central bank assets under management and moved into the top five in worldwide assets for this prestigious client base. Johanna Lasker, CEO North America & Head of Official Institutions, BNP Paribas Asset Management, said: "This award is a great recognition of our dedication to this important client base who we have been proud to serve over the past four decades. During this challenging year, we have adapted to remain even closer to clients."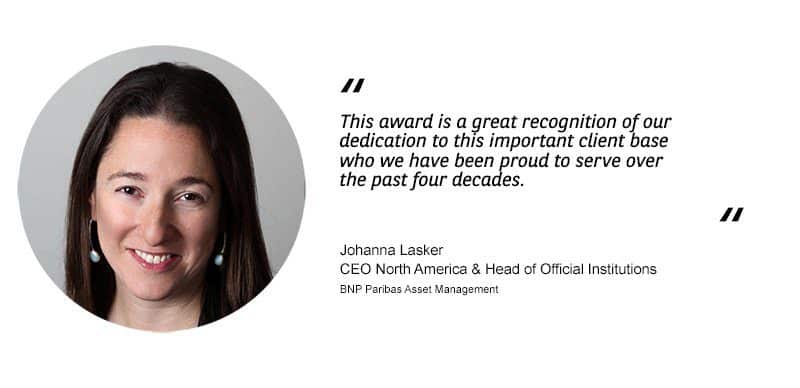 In addition, Sandro Pierri, Global Head Client Group & Deputy CEO, BNP Paribas Asset Management said: "We are absolutely delighted to be the recipient of this year's Central Banking Asset Manager of the Year Award. I believe winning this award during the Covid crisis is all the more relevant as it is a recognition of how we adapted to remain even closer to our clients during this unprecedented time. Our central bank clients rely on us not only to deliver alpha, but also for advice. We remain committed to them and look forward to growing these relationships while providing our clients with long-term sustainable returns."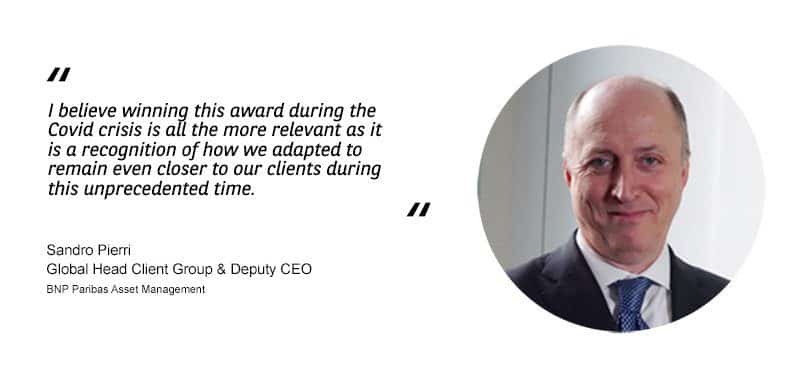 This is the first year BNP Paribas Asset Management has won the Asset Manager of the Year Award, however, it received the "Innovation in Reserve Management" award in 2019 and the "Leaders in Reserve Management" award in 2018.