Respondent profile
BNP Paribas' Capital Introduction team flash surveyed its' manager community regarding the use and impact of Artificial Intelligence through ChatGPT (Chat Generative Pre-Trained Transformer) within the asset management sector.
We collected responses from 39 individuals whose firms have a combined AUM of $250.5 billion. The respondents are concentrated in Europe and Americas, with 67% America based, 28% from EMEA and 5% Asia Pacific.

It is worth noting that the respondent data shows the majority of managers using it are from fundamental firms. Quant firms have been using AI for a much longer period and tend to access it through their own machine learning programmes.

ChatGPT
We asked our respondents whether they currently use ChatGPT and if so, whether that was for personal, professional use, or both. If professional, we wanted to understand how it was being used within their businesses.
ChatGPT is a large language model, launched in November 2022, designed to generate human-like responses based on user prompts. It can understand and generate text in a conversational manner, allowing users to interact with it. ChatGPT can be used for a variety of different things, some of which cover generating creative content, obtaining information on a variety of topics, language assistance, task automation, decision support as well as general learning or entertainment.

From our 39 respondents, 80% of them use ChatGPT for professional and/or personal means, whilst another 10% are considering using it in the future. Amongst those that do use ChatGPT already, 44% use it in a professional capacity.

ChatGPT usage
Ultimately, ChatGPT can be used for a large variety of reasons as mentioned above. Amongst our respondents who use it in a professional capacity, the vast majority (70%), are using it for the production of marketing text, or to summarise large reports or documents.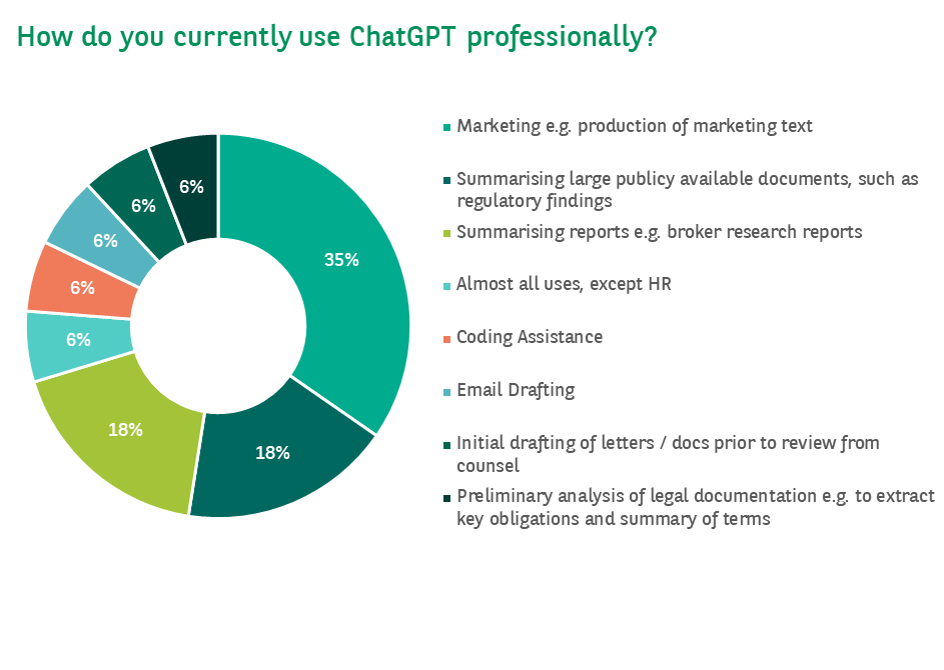 Those using ChatGPT already anticipate that within the next year, their usage will continue to lean mostly towards marketing and summarising large documents. However, there are also a number of users who are looking to increase usage for preliminary analysis of legal documentation (24%). 35% of the respondents already using ChatGPT anticipate their usage will change or grow in the next year.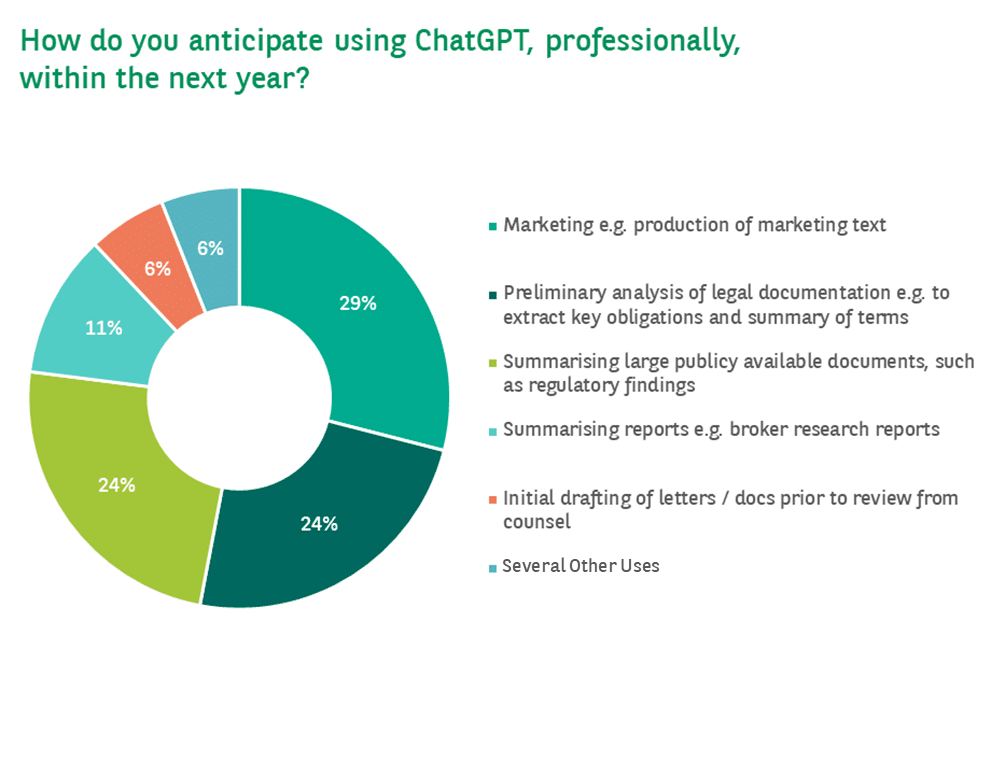 ChatGPT access
There are numerous ways to access ChatGPT, the majority of users are utilising the free version through the OpenAI hosted model (87% of our respondents who use ChatGPT for professional and/or personal use). However, it is also possible to access via a corporate subscription or API (13%). Of those respondents who currently use the free public access, 32% of them anticipating switching to an alternative access option within a years' time.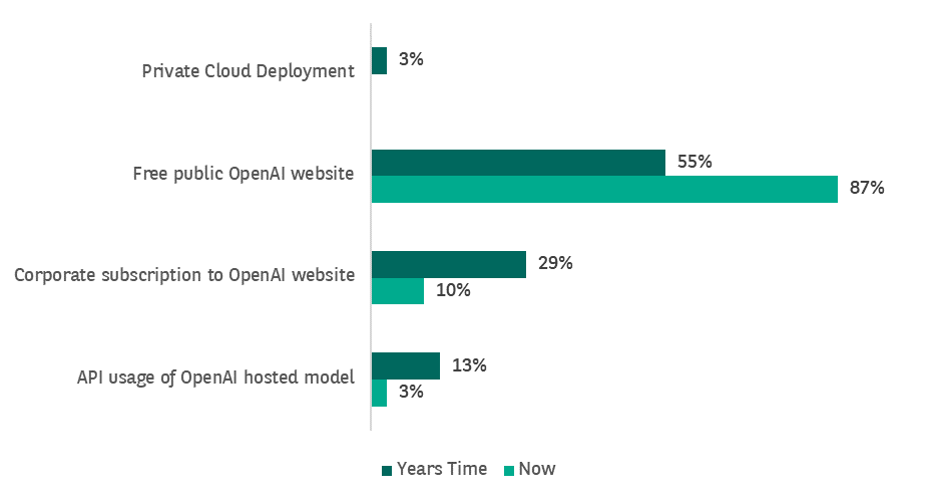 The evolution of Artificial Intelligence
We asked our respondents how they saw the evolution of artificial intelligence/large language models affecting the alternative asset management sector in the next 6-12 months.
The overall consensus was that there would be massive change across the board; whilst some felt the change would be negative, such as large reduction of headcount or a potential disruptor to the Quant and coding market, the majority felt the usage of AI would increase to assist the normal running of business more efficiently.
Expect managers to experiment extensively with the capabilities, including for data management, administrative legal and compliance work, and possibly even low-level investment tasks.
Lowers the bar for smaller funds to be more competitive with larger organisations.
Significant productivity improvements including radical change to some roles where AI can provide faster and higher quality information.
…with AI you will see more firms look to data aggregation and data mining as they will use and see this as a way in without having to necessarily hire a fully stacked engineer team. It will take time, but could be the foot in the door that a lot of pure bottom up investors will be looking for.