Borrowers have captured public attention with green bonds and loans, then sustainability-linked bonds and sustainability-linked loans. Green features are now making their way into financial institutions' diversified funding model.

A recent example is a green repurchase deal, or green repo, that Agricultural Bank of China Limited (ABC), Singapore Branch entered into with BNP Paribas.

The agreement will see BNP Paribas extend $50 million to ABC Singapore Branch, with proceeds  used to finance or refinance projects related to Pollution Prevention and Control, and Green Buildings. The investments will adhere to the green financing principles, guidelines and standards referenced in the ABC's Sustainable Financing Framework.

ABC's Sustainable Financing Framework provides guidelines for ABC Singapore Branch in providing green, social or sustainable financing to clients or projects in the areas such as renewable energy, green buildings and access to essential services, including public transportation and healthcare.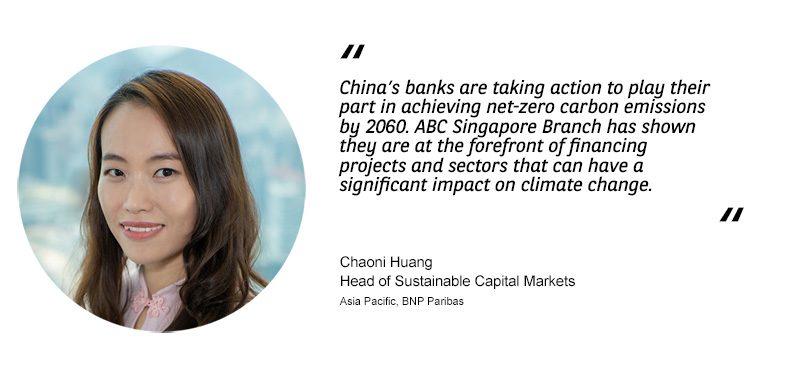 While it's too early to be a trend, green repos are starting to be on the radar of financial markets. In November 2020, Frankfurt-based Eurex, the world's largest futures and options market, launched its first Green Bond GC Basket destined for the development of a green repo market.

For ABC, the benefit of using a repo structure is to diversify their financing arrangements, allowing a balance between short- and long-term cash flows in line with their own capital needs. Additionally, the repo structure enables ABC to target-finance specific green assets, while also utilising its more liquid collateral to access a cheaper secured funding rate.

Under the repo format, ABC Singapore Branch will provide collateral in the form of liquid conventional Investment Grade corporate bonds, and a daily variation margin mechanism.

Chaoni Huang, Head of Sustainable Capital Markets for Asia Pacific at BNP Paribas, said, "In keeping with the Paris Agreement goal to contain global warming to "well below two degrees above pre-industrial averages", China recently announced their plan to achieve net-zero carbon emissions by 2060. The country's banks are taking action to play their part. ABC Singapore Branch has shown they are at the forefront of financing projects and sectors that can have a significant impact on climate change."