At the sixth annual BNP Paribas Global Markets Americas Conference held on May 23rd, clients gained insights from an elite group of world-class authorities on some of the biggest market drivers for 2023 and beyond. These included expected growth and inflation trends, central bank policies, the U.S debt ceiling, geopolitical developments, structural trends such as de-globalization and AI, and the green energy transition.
Over 700 institutional and corporate attendees packed the ballroom at the historic Casa Cipriani in downtown Manhattan to hear an exclusive conversation with George W. Bush, the 43rd President of the United States, and to benefit from the expertise of all speakers. These included Michael Milken, Chairman of the Milken Institute; Larry Fink, Chairman and CEO of BlackRock; Sheila Bair, former Chair of the FDIC; Esther George, former President and CEO of the Federal Reserve Bank of Kansas City; and Torsten Slok, Chief Economist at Apollo Global Management.
Below are three of many key takeaways from the day that are expected to impact markets during 2023 and beyond:
The geopolitical balance of power is shifting
Governments and global companies are reassessing their dependencies, resulting in increased supply chain fragmentation and on-shoring. As a consequence, China's role as an exporter of manufactured goods to the West is changing. Following Russia's invasion of Ukraine, European countries are also reducing their dependency on Russian energy. Meanwhile, some countries such as China and Japan are experiencing population decline, while sub-Saharan Africa is seeing the opposite trend. All of this has profound implications for where companies will do business and invest in the future.
New technologies will drive U.S. growth
The development of new technologies, from artificial intelligence to green hydrogen, will be a significant driver of growth in the U.S. economy and provide compelling investment opportunities. Taken together, home-grown decarbonisation technology, fueled by new federal subsidies in the Inflation Reduction Act, will power the rapid energy transition required to reach net zero, and produce an accompanying wave of job creation. Potential relaxation of permitting requirements as part of the US debt ceiling resolution could accelerate this timeline.
'Sticky' inflation will keep interest rates higher for longer
Persistent U.S. inflation will continue to drive monetary policy and impact markets. The Fed is expected by many to keep interest rates the same or higher than today to achieve its 2% target, likely tipping the U.S. into recession. Among the likely impacts, this sequence is expected to put more pressure on regional banks, reduce term bank lending, fuel growth of private credit underwriters and exacerbate stresses in the CRE market.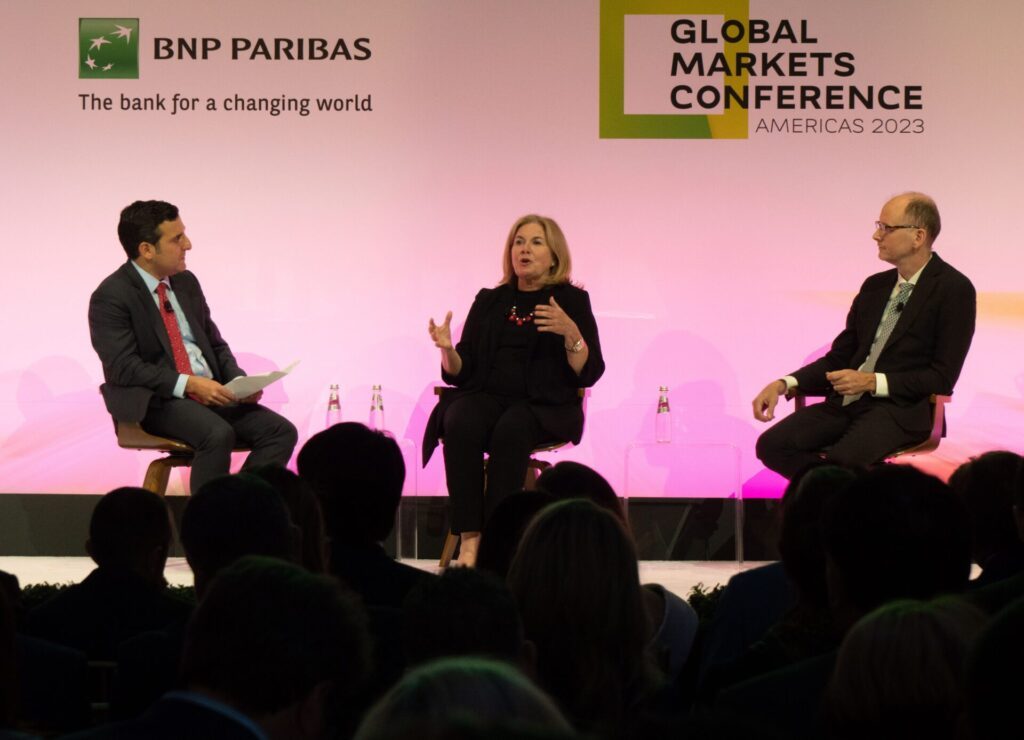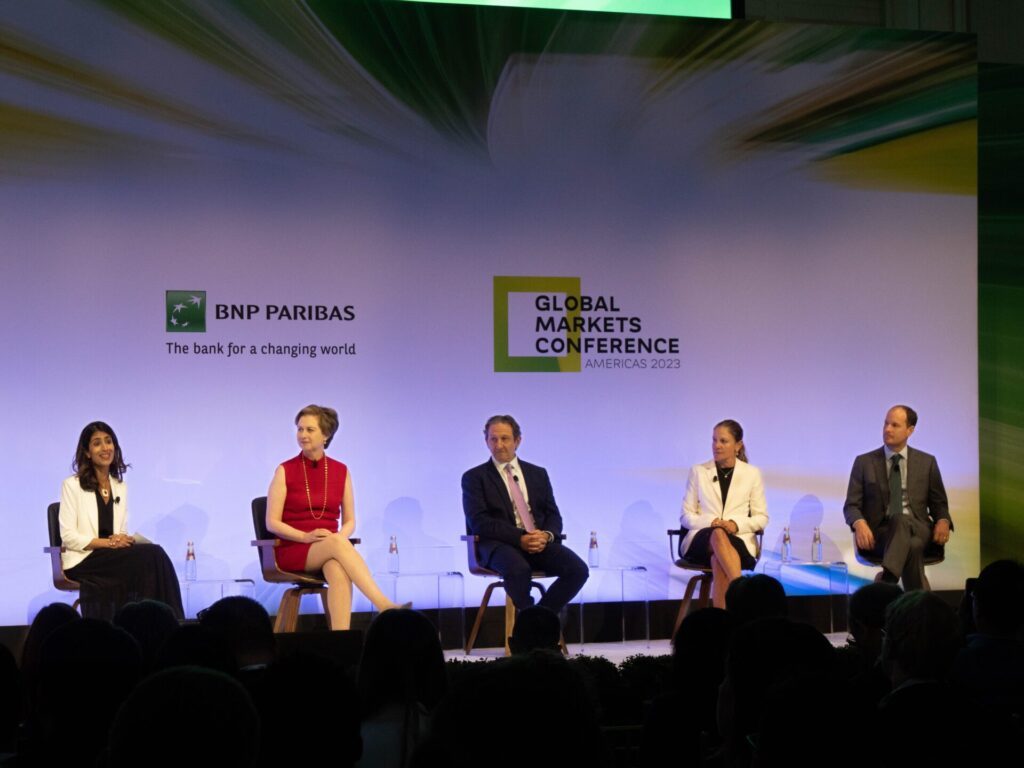 Disclaimer
This material is for informational purposes only and is not intended to be a complete and full description of the products of BNP Paribas and its affiliates or the risks they involve. Additional information is available upon request. Neither the information nor any opinion contained in this material constitutes a recommendation, solicitation or offer by BNP Paribas or its affiliates to buy or sell any security, futures contract, options contract, derivative instrument, financial instrument, or service, nor shall it be deemed to provide investment, tax, legal, accounting or other advice. All opinions, information, and estimates in this material constitute BNP Paribas' or its affiliates' judgment as of the date of this material. This material is only intended to generate discussions regarding particular instruments and financing and/or investments opportunities and is subject to change, or may be discontinued, without notice. This material should neither be regarded as comprehensive nor sufficient for making financing and/or investment decisions, nor should it be used in place of professional advice. You should consult your own advisors about any products or services described herein in order to evaluate the merits, suitability, and financial, legal, regulatory, accounting and tax issues raised by any investment and should not rely on BNP Paribas or its affiliates for this. Information contained herein is derived from sources generally believed to be reliable, but no warranty is made that such information is accurate, complete or fair and should not be relied on as such. The offer and sale of securities to institutional investors may only be made through the U.S. registered broker dealer and futures commission merchant entity, BNP Paribas Securities Corp.